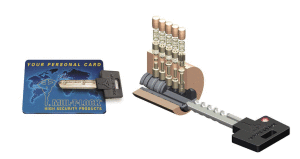 There are many reasons why you need pick-proof locks, deadbolts, knobs and door handles, and although you might live behind a gate, have an alarm, dogs or insurance, pick-proof locks may be your first stop in case of a home burglary. When someone picks a lock open, it can barely be heard, unlike smashing of glass, which can wake up a whole neighborhood.
But I live In a Gated Community…
Although you might live in a gated community, even if it's guard gated, keep in mind that many burglars are very familiar with your home. They may be a visitor of your neighbor's, or anyone that is already in the neighborhood and is looking for the right opportunity.  The regular deadbolts and knobs wont stop a burglar from picking open your door locks.
But I have a Home Alarm…
Alarms will notify the local police or security patrol, but by the time authorities show up, the burglar may be long gone with your Ipad, laptop, jewelry and other personal valuables. A standard lock that can be picked open won't keep a professional from picking the lock open.
But I have a dog…
Dogs might make noise but what if a burglar feeds the dog a treat and/or puts the dog in the back yard to allow the burglar to roam free an clear in the house. High security locks will have pick-proof mechanism.
But I have Insurance…
One of the worse feelings to have is invasion of privacy or a feeling of intrusion and locks that are pick-resistant will play a great deterrent for a burglar.
High-security locks might not be 100% burglar-proof, but essentially nothing is. Locks that are pick-resistant will deter against a burglary.